You Deserve Delectable "Designer" Chocolate Confections
PLEASE NOTE!!!
CURRENTLY WE ARE ONLY ACCEPTING LIMITED ORDERS, SO PLEASE CONTACT US DIRECTLY AT 919-597-0494 OR ANGELAB@GLAMBERRIESNC.COM PRIOR TO SUBMITTING ANY ORDER THROUGH THE WEBSITE. THANK YOU.
Bulk Orders
Please contact us directly regarding bulk orders, greater than 5 dozen of any item. (angelab@glamberriesnc.com)
Shipping May Be Available
Our customers have asked, so we have obliged! GlamBerries items, with the exception of chocolate covered strawberries and our more delicate items are now available for shipping in the cooler months of the year. Unfortunately, we cannot ship when temps are consistently above 72 degrees.
We will continue to only allow local delivery and pickup for strawberries, towers and truffle cakes, which best insures their freshness, quality and presentation. These items are available for delivery and/or pickup in Raleigh, Durham and surrounding areas of North Carolina, outside of these areas for a delivery fee.
We do occasionally "POP UP" in other locations. Follow us on social media to find out where we'll be next!
Handcrafted JUST FOR YOU!
GlamBerries' desserts and treats are not mass-produced. Each order is individualized and crafted just for you, therefore please allow us at least 48 hrs for orders.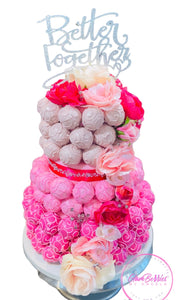 NEW!!! Truffle Cake!
Thinking OUTSIDE THE BOX, our "Truffle Cake" is a take on the traditional wedding cake. Sumptuous cake bites adorn this tiered tower with delicious, buttery goodness.
Would You Like To See More?
Go to the "Treat Gallery" above and be sure to follow us on social media! Click the Facebook or Instagram links below to be taken there directly! YOU'LL BE GLAD YOU DID!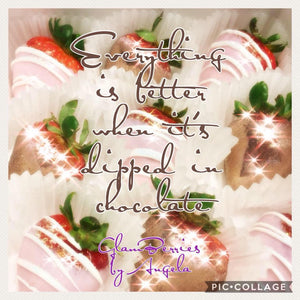 We bring the "SWEET!"
Simply put, CHOCOLATE MAKES EVERYTHING BETTER!